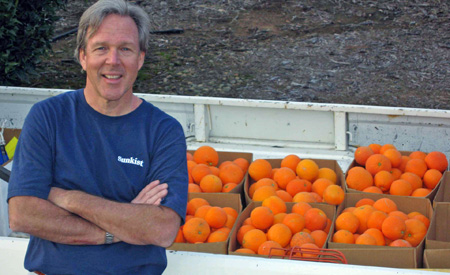 Jed Harrison
CFO (Chief Fruit Officer)
Jed took over the former Foreman Ranch in 2004. The groves were planted in the mid 1950s and operated by Walter Foreman, who lived at the ranch until December, when he passed away at 99. Harrison Ranch is the culmination of Jed's long time dream that began when he spent weekends with friends on a Lemon Ranch north of Santa Barbara in the 60s.
Jed grew up in La Canada, California, one of the original Southern California citrus and grape producing areas that gave way to the growth of the Los Angeles suburbs. Jed studied Agriculture at Mt San Antonio College, Chico State, and UC Davis.
Jed and his girlfriend Stans make their home in Henderson, Nevada where Jed is currently Director of the US EPA's R&IE National Laboratory in Las Vegas, Nevada. Jed and Stans plan to move to the Ranch when Jed retires from EPA.
Harrison Ranch's special "Schuyler Citrus" Oranges - reserved for special holiday season fruit - take their name from Jed's son Schuyler Harrison.
Jed is committed to maintaining the tradition established by Walter Foreman, in producing sweet, juicy Lemon Cove Navel Oranges.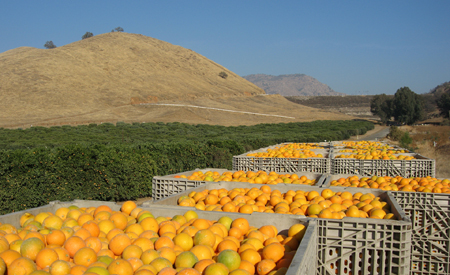 Harrison Ranch
Lemon Cove, California
Lemon Cove has a long history producing Lemons, Oranges, and Grapefruit. Olives are a common tree crop in the area, and in recent years plantings of Clementines and other "easy to peel" fruit is increasing.
The ranch was established in the mid 1950's by Walter Foreman , and many of the original trees that Walter planted some 60 years ago are still producing. One can still find "legacy trees" planted in the area in the early 1900s.
Harrison Ranch is managed by George McEwen of Exeter, California, a third generation citrus grower and nurseryman. George and his staff take care of the day to day cultural operations at the ranch, and ensure that the orchards produce the best fruit possible.
Harrison Ranch is affiliated with Sierra Citrus Association, a Sunkist Packing House in Lindsay, California. Each year Harrison Ranch's fruit is monitored until it sweet and ready to eat - never rushed - then harvested by the Sierra Citrus picking crews. Once harvested, Sierra Citrus washes, sorts, packs, and markets Harrison Ranch fruit. Lemon Cove oranges are prized for their early season juicy flavor and sweetness, and are exported to overseas markets such as Korea and Malaysia.